Sky Lynx
A powerful fighter. Self-centered and boastful. Fearless, daring, believes himself to be superior to many of his fellow Autobots. Shell-resistant and steel-reinforced hull can withstand enemy bombardment and extreme temperature variations. Possesses solar powered auxiliary engines. Acetylene blaster inside cockput shoots 3000 degree flames. As space shuttle, has interplanetary travel capabilities - maximum speed 30,000 mph, range 40,000,000 miles.
(Source: Wikipedia)

TF-Robots store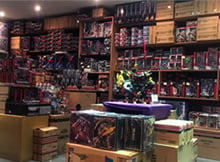 Openings hours:
Saturday 11:00h - 17:00h
To visit our shop, you have to make an appointment by e-mail: service@tfrobots.nl.

WEARING FACE COVERINGS IS MANDATORY WHEN VISITING OUR SHOP.

Address:
Kromstraat 25, Veldhoven.
More information here
.

Fixed shipping fee with tracking
All shipments with insurance - no risk when losing shipments
Shipped from The Netherlands - no import tax in all European Countries
Shopping cart
No items in shopping cart.