Broadside
Doesn't like transforming into carrier or jet - gets seasick on water, has fear of heights. Effective, valiant warrior, but other Autobots wish he wouldn't gripe so much. Expands to 1200 ft. length as carrier, capable of landing jets and carrying other Autobots. 15,000 mile range, 40 knots maximum speed. Projects 80,000 volt electric field around himself in jet mode. Has high-energy plasma-pulse gun and shattering vibro-ax in robot mode.
(Source: Wikipedia)

TF-Robots store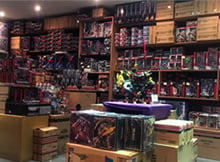 Openings hours:
Saturday 11:00h - 17:00h
To visit our shop, you have to make an appointment by e-mail: service@tfrobots.nl.

WEARING FACE COVERINGS IS MANDATORY WHEN VISITING OUR SHOP.

Address:
Kromstraat 25, Veldhoven.
More information here
.

Fixed shipping fee with tracking
All shipments with insurance - no risk when losing shipments
Shipped from The Netherlands - no import tax in all European Countries
Shopping cart
No items in shopping cart.