Slugslinger
A brawling, swaggering braggart, claims he'll challenge anyone to a duel, but prefers sneaking up and shooting enemies in the back. When his ammunition runs out, so does his courage. Paired with Caliburst, one-time Nebulan leading actor who only does this for the money. As an automatic machine gun, Caliburst can shoot armor-piercing shells at 1200 rounds per minute. In jet mode, maximum speed: 2400 mph.
(Source: Wikipedia)

TF-Robots store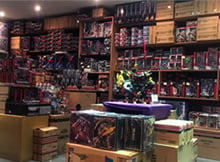 Openings hours:
Saturday 11:00h - 17:00h
To visit our shop, you have to make an appointment by e-mail: service@tfrobots.nl.

WEARING FACE COVERINGS IS MANDATORY WHEN VISITING OUR SHOP.

Address:
Kromstraat 25, Veldhoven.
More information here
.

Fixed shipping fee with tracking
All shipments with insurance - no risk when losing shipments
Shipped from The Netherlands - no import tax in all European Countries
Shopping cart
No items in shopping cart.