Chromedome
Spent several thousand years crunching numbers at Cybertron's Institute for Higher Programming before a Decepticon attack reduced it to a pile of smoking microchips. Binary-bonded to Stylor, an egotistical Nebulan more concerned with personal appearance than warfare. In car mode, maximum speed: 478 mph. Range: 630 miles. Hood-mounted infra-red range finder automatically targets roof-mounted dual lasers.
(Source: Wikipedia)

TF-Robots store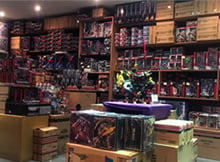 Openings hours:
Saturday 11:00h - 17:00h
To visit our shop, you have to make an appointment by e-mail: service@tfrobots.nl.

WEARING FACE COVERINGS IS MANDATORY WHEN VISITING OUR SHOP.

Address:
Kromstraat 25, Veldhoven.
More information here
.

Fixed shipping fee with tracking
All shipments with insurance - no risk when losing shipments
Shipped from The Netherlands - no import tax in all European Countries
Shopping cart
No items in shopping cart.