Trailbreaker
Trailbreaker makes light of any situation, no matter how serious. Practical joker and cheerleader, but considers himself a liability to Autobots since he consumes the most fuel. Lacks self-esteem and often asks to be left behind. Projects nearly impenetrable invisible force-field. Can jam radio transmissions. Very slow. Often mopes about his handicaps, but his bravery and defensive prowess is unquestioned.
(Source: Wikipedia)

TF-Robots store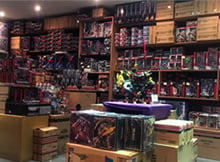 Openings hours:
Saturday 11:00h - 17:00h
To visit our shop, you have to make an appointment by e-mail: service@tfrobots.nl.

WEARING FACE COVERINGS IS MANDATORY WHEN VISITING OUR SHOP.

Address:
Kromstraat 25, Veldhoven.
More information here
.

Fixed shipping fee with tracking
All shipments with insurance - no risk when losing shipments
Shipped from The Netherlands - no import tax in all European Countries
Shopping cart
No items in shopping cart.