Crosshairs
Meticulous, cautious, some would say overcautious—won't take a shot unless he's sure he can't miss... won't waste ammo. Pinpointer, his dual rocket-propelled grenade launcher, can lock on target in less than .0003 seconds, but usually trusts Crosshairs to decide when to shoot. In vehicle mode, maximum speed: 160 mph, range: 750 miles; built for traversing rough terrain.
(Source: Wikipedia)

TF-Robots store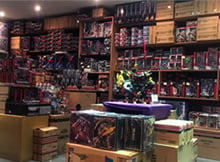 Openings hours:
Saturday 11:00h - 17:00h
To visit our shop, you have to make an appointment by e-mail: service@tfrobots.nl.

WEARING FACE COVERINGS IS MANDATORY WHEN VISITING OUR SHOP.

Address:
Kromstraat 25, Veldhoven.
More information here
.

Fixed shipping fee with tracking
All shipments with insurance - no risk when losing shipments
Shipped from The Netherlands - no import tax in all European Countries
Shopping cart
No items in shopping cart.