Chase
Impatient, overeager, usually ten miles down the road before other Throttlebots have shifted into gear. Likes to brag about past exploits and future conquests. Very popular. In car mode, can cruise at 240 mph. Excellent vision—can see long distances in three directions at the same time. Possesses an array of radar dishes positioned under roof in car mode. Prone to drive shaft and transmission problems.
(Source: Wikipedia)

TF-Robots store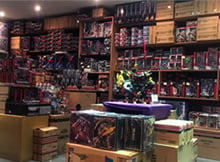 Openings hours:
Saturday 11:00h - 17:00h
To visit our shop, you have to make an appointment by e-mail: service@tfrobots.nl.

WEARING FACE COVERINGS IS MANDATORY WHEN VISITING OUR SHOP.

Address:
Kromstraat 25, Veldhoven.
More information here
.

Fixed shipping fee with tracking
All shipments with insurance - no risk when losing shipments
Shipped from The Netherlands - no import tax in all European Countries
Shopping cart
No items in shopping cart.