Headstrong
Doesn't listen to anyone, particularly his friends. Smug, arrogant. Puts up a stubborn front to hide deep-rooted insecurities. More vulnerable to psychological rather than physical attacks. In rhinoceros mode, his horn can puncture 3-foot thick steel, release corrosive acid. Uses plasma-sphere shooter that emits explosive energy balls; has light distorting diffraction sword.
(Source: Wikipedia)

TF-Robots store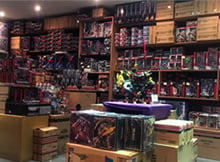 Openings hours:
Saturday 11:00h - 17:00h
To visit our shop, you have to make an appointment by e-mail: service@tfrobots.nl.

WEARING FACE COVERINGS IS MANDATORY WHEN VISITING OUR SHOP.

Address:
Kromstraat 25, Veldhoven.
More information here
.

Fixed shipping fee with tracking
All shipments with insurance - no risk when losing shipments
Shipped from The Netherlands - no import tax in all European Countries
Shopping cart
No items in shopping cart.