Skullcruncher
Has a habit of grinding his teeth before he strikes—annoying his friends and tipping off his enemies. Binary-bonded to Grax, a Nebulan industrialist who's joined up to eliminate his competition. In robot mode, uses softening ray run—gives metal the consistency of rubber, making his enemies easier to chew when he reverts to alligator mode.
(Source: Wikipedia)

TF-Robots store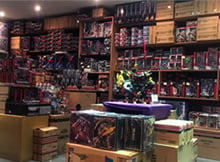 Openings hours:
Saturday 11:00h - 17:00h
To visit our shop, you have to make an appointment by e-mail: service@tfrobots.nl.

WEARING FACE COVERINGS IS MANDATORY WHEN VISITING OUR SHOP.

Address:
Kromstraat 25, Veldhoven.
More information here
.

Fixed shipping fee with tracking
All shipments with insurance - no risk when losing shipments
Shipped from The Netherlands - no import tax in all European Countries
Shopping cart
No items in shopping cart.