Gears
Gears is anti-social, a self-proclaimed misfit. Finds fault in everything and everyone. Acts this way to help cheer others up as they try to cheer him up. Tremendous strength and endurance. Totes heavy loads long distances. Launches to height of 20 miles, floats down on compressed air. Becomes an easy target due to limited maneuverability. Can detect infrared.
(Source: Wikipedia)

TF-Robots store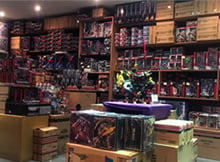 Openings hours:
Saturday 11:00h - 17:00h
To visit our shop, you have to make an appointment by e-mail: service@tfrobots.nl.

WEARING FACE COVERINGS IS MANDATORY WHEN VISITING OUR SHOP.

Address:
Kromstraat 25, Veldhoven.
More information here
.

Fixed shipping fee with tracking
All shipments with insurance - no risk when losing shipments
Shipped from The Netherlands - no import tax in all European Countries
Shopping cart
No items in shopping cart.