Cosmos
Lonely in outer space... relieves boredom by scaring humans by hovering over their backyards at night or zig-zagging through meteor showers. Can achieve Earth orbit, even go to Moon and back with enough fuel. Acts as communications satellite... optical sensors can see bicycle at 600 miles. Has pinpoint accuracy, high-powered particle beam. Not well-suited to function on ground as robot.
(Source: Wikipedia)

TF-Robots store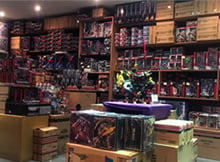 Openings hours:
Saturday 11:00h - 17:00h
To visit our shop, you have to make an appointment by e-mail: service@tfrobots.nl.

WEARING FACE COVERINGS IS MANDATORY WHEN VISITING OUR SHOP.

Address:
Kromstraat 25, Veldhoven.
More information here
.

Fixed shipping fee with tracking
All shipments with insurance - no risk when losing shipments
Shipped from The Netherlands - no import tax in all European Countries
Shopping cart
No items in shopping cart.