Rampage
Barrels through life with an uncontrolled fury. Has difficulty talking coherently for more than a few seconds before violently lashing out at anything near him, friend or foe. TV calms him... stares at rock music videos for hours. As tiger, can leap 300 ft. in height, 500 ft. in length. A kick from his foreleg can crumble a cinder block wall. As robot, carries 60,000 volt lightning rifle, 5000 degree thermo-sword.
(Source: Wikipedia)

TF-Robots store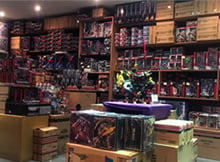 Openings hours:
Saturday 11:00h - 17:00h
To visit our shop, you have to make an appointment by e-mail: service@tfrobots.nl.

WEARING FACE COVERINGS IS MANDATORY WHEN VISITING OUR SHOP.

Address:
Kromstraat 25, Veldhoven.
More information here
.

Fixed shipping fee with tracking
All shipments with insurance - no risk when losing shipments
Shipped from The Netherlands - no import tax in all European Countries
Shopping cart
No items in shopping cart.