Nosecone
He makes enemy fortifications look like walls of Swiss cheese by the time he's finished with them. Slow and methodical - weathers artillery fire with the same calm he endures criticism of his apparent laziness. In vehicle mode, durabyllium - steel alloy drill can pierce almost any material; 2 rocket-propelled missiles use vidicon cameras to lock onto targets. In robot mode, has X-ray laser pistol.
(Source: Wikipedia)

TF-Robots store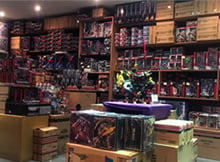 Openings hours:
Saturday 11:00h - 17:00h
To visit our shop, you have to make an appointment by e-mail: service@tfrobots.nl.

WEARING FACE COVERINGS IS MANDATORY WHEN VISITING OUR SHOP.

Address:
Kromstraat 25, Veldhoven.
More information here
.

Fixed shipping fee with tracking
All shipments with insurance - no risk when losing shipments
Shipped from The Netherlands - no import tax in all EU-Countries
Shopping cart
No items in shopping cart.