Highbrow
To him, warfare is barbaric, worthy of only the most primitive... thinks differences need to be talked about, which he does endlessly. Uses big words no one else understands. A self-righteous snob. Binary-bonded to Gort, a cheerful, courageous young Nebulan. In helicopter mode, maximum speed: 1200 mph; equipped with radioactive jammers, target-indicating radar, magnetic, infra-red, and audio sensors. In robot mode, uses 2 corrosive acid rainmaker rifles.
(Source: Wikipedia)

TF-Robots store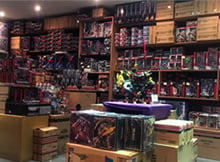 Openings hours:
Saturday 11:00h - 17:00h
To visit our shop, you have to make an appointment by e-mail: service@tfrobots.nl.

WEARING FACE COVERINGS IS MANDATORY WHEN VISITING OUR SHOP.

Address:
Kromstraat 25, Veldhoven.
More information here
.

Fixed shipping fee with tracking
All shipments with insurance - no risk when losing shipments
Shipped from The Netherlands - no import tax in all European Countries
Shopping cart
No items in shopping cart.