Swindle
Easy-going and good natured, but within him beats the fuel pump of the most greed-driven street hustler. Thrives on wheeling and dealing, works for his own personal material advancement. A one-robot "black market." Uses a scatter blaster that sprays explosive pellets, gyro gun that disrupts Transformers' balance center. Prone to overturning on sharp turns.
(Source: Wikipedia)

TF-Robots store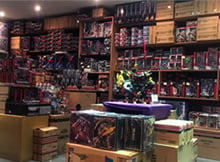 Openings hours:
Saturday 11:00h - 17:00h
To visit our shop, you have to make an appointment by e-mail: service@tfrobots.nl.

WEARING FACE COVERINGS IS MANDATORY WHEN VISITING OUR SHOP.

Address:
Kromstraat 25, Veldhoven.
More information here
.

Fixed shipping fee with tracking
All shipments with insurance - no risk when losing shipments
Shipped from The Netherlands - no import tax in all European Countries
Shopping cart
No items in shopping cart.