Junkyard
Junkyard also known as Junkheap is the public face of the Junkion commerce, and often sells used and refurbished components and items to other civilizations. Unlike most Junkions who are always quoting TV and media, and can be very hard to understand if you are not a Junkion, Junkyard usually speaks in plain English. Junkyard is also very good at identifying the needs of his customers, and is very good in business, and is a skilled technician, and does not like to fight in battle.
(Source: Wikipedia)

TF-Robots store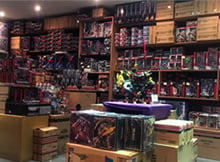 Openings hours:
Saturday 11:00h - 17:00h
To visit our shop, you have to make an appointment by e-mail: service@tfrobots.nl.

WEARING FACE COVERINGS IS MANDATORY WHEN VISITING OUR SHOP.

Address:
Kromstraat 25, Veldhoven.
More information here
.

Fixed shipping fee with tracking
All shipments with insurance - no risk when losing shipments
Shipped from The Netherlands - no import tax in all European Countries
Shopping cart
No items in shopping cart.