Astrotrain
Astrotrain loves to sow confusion. To this end, his Triple Changer abilities serve him well. Nothing pleases him more than confronting an Autobot in a dark corner and making him wonder if he's up against one Decepticon or two. He craves having this power over others. Single-minded, you may say, but when most of your time is spent transporting troops around, you have to take your jollies where you can. He wants more from life, but it's either fly the other Decepticons around, or get scrapped by them.
He also craves having power over a massive army of train drones. Follow your dreams, Astrotrain. Follow your dreams.
(Source: www.tfwiki.net)

TF-Robots store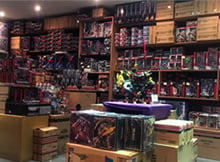 Openings hours:
| | | |
| --- | --- | --- |
| Wednesday | 13:30-17:00 | |
| Thursday | 13:30-17:00 | |
| Friday | 13:30-17:00 | |
| Saturday | 11:00-17:00 | |
| | | |
WEARING FACE COVERINGS IS MANDATORY WHEN VISITING OUR SHOP.

Address:
Kromstraat 25, Veldhoven.
More information here.

Fixed shipping fee with tracking
All shipments with insurance - no risk when losing shipments
Shipped from The Netherlands - no import tax in all European Countries
Shopping cart
No items in shopping cart.