Scattershot
Leader of the Techtobots. A brawling, bragging berserker... he wades into a Decepticon patrol with all barrels blazing, doesn't stop until he's out of ammo. Calls those who disapprove of his methods 'tinplated bucketheads.' Rude, gruff, and direct. In vehicle and battle station modes, has electron pulse cannon in nosecone; array of sonic, thermal and artillery shell guns. In robot mode, has 500 rounds-per-minute automatic acid-pellet gun.
(Source: Wikipedia)

TF-Robots store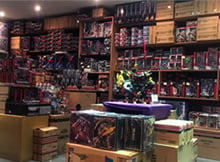 Openings hours:
Saturday 11:00h - 17:00h
To visit our shop, you have to make an appointment by e-mail: service@tfrobots.nl.

WEARING FACE COVERINGS IS MANDATORY WHEN VISITING OUR SHOP.

Address:
Kromstraat 25, Veldhoven.
More information here
.

Fixed shipping fee with tracking
All shipments with insurance - no risk when losing shipments
Shipped from The Netherlands - no import tax in all European Countries
Shopping cart
No items in shopping cart.