Octane
A greedy, mean-spirited bully. Enjoys watching fellow Decepticons become painfully inoperative from lack of fuel. Forces Autobots off roads and Aerialbots to abort landings just for fun. Crashes make him laugh. In jet mode: range 700 miles, maximum speed 750 mph. In tanker mode: range 65,000 miles, maximum speed 90 mph, carries 10,000 gallons of fuel. Carries fuel-powered flamethrower and deflecto-shield. Last known position held is commander of Tryticon (Decepticon City).
(Source: Wikipedia)

TF-Robots store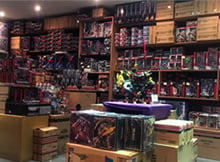 Openings hours:
Saturday 11:00h - 17:00h
To visit our shop, you have to make an appointment by e-mail: service@tfrobots.nl.

WEARING FACE COVERINGS IS MANDATORY WHEN VISITING OUR SHOP.

Address:
Kromstraat 25, Veldhoven.
More information here
.

Fixed shipping fee with tracking
All shipments with insurance - no risk when losing shipments
Shipped from The Netherlands - no import tax in all European Countries
Shopping cart
No items in shopping cart.