Beachcomber
No interest in warfare; prefers long, lone trips into deserts and along coasts... only places he feels he can escape to and relax. Cool-headed, low-key, personable - what Earthlings call "laid-back". Fights when called upon despite anti-war feelings. Range of 800 miles... can go over very rugged terrain. Sensors can determine chemical composition of land and find needed resources. Susceptible to mental stress.
(Source: Wikipedia)

TF-Robots store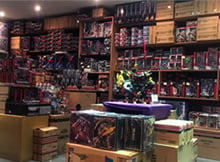 Openings hours:
Saturday 11:00h - 17:00h
To visit our shop, you have to make an appointment by e-mail: service@tfrobots.nl.

WEARING FACE COVERINGS IS MANDATORY WHEN VISITING OUR SHOP.

Address:
Kromstraat 25, Veldhoven.
More information here
.

Fixed shipping fee with tracking
All shipments with insurance - no risk when losing shipments
Shipped from The Netherlands - no import tax in all EU-Countries
Shopping cart
No items in shopping cart.