Inferno
If there's a blazing fire, Inferno is going to be one of the first bots on the scene, rushing in headlong without regard for his own safety to rescue anyone trapped inside. If there's a blazing firefight Inferno will also be one of the first bots on the scene, and probably even faster than the previous scenario.
Few bots are as gung-ho as Inferno, whose heat-resistant body and seeming lack of fear make him a tough customer in any kind of emergency. He certainly prefers the thrill of gunning down Decepticons over tackling a four-alarm fire, but he doesn't let his thirst for battle interfere with his duty as a rescue bot.
Amusingly, he's the rational, cautious one in the odd-couple friendship he has with Red Alert.
(Source: www.tfwiki.net)

TF-Robots store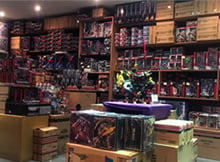 Openings hours:
Saturday 11:00h - 17:00h
To visit our shop, you have to make an appointment by e-mail: service@tfrobots.nl.

WEARING FACE COVERINGS IS MANDATORY WHEN VISITING OUR SHOP.

Address:
Kromstraat 25, Veldhoven.
More information here
.

Fixed shipping fee with tracking
All shipments with insurance - no risk when losing shipments
Shipped from The Netherlands - no import tax in all European Countries
Shopping cart
No items in shopping cart.