Windcharger
Windcharger is the fastest Autobot over short distances. Good in situations requiring fast, decisive action. Enthusiastic but inpatient. Short attention span. Casts powerful magnetic fields which can attract or repel large metal objects. Smashes them at closer distances. These abilities use up tremendous energy. Often burns himself out due to carelessness.
(Source: Wikipedia)

TF-Robots store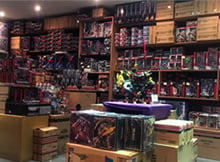 Openings hours:
Saturday 11:00h - 17:00h
To visit our shop, you have to make an appointment by e-mail: service@tfrobots.nl.

WEARING FACE COVERINGS IS MANDATORY WHEN VISITING OUR SHOP.

Address:
Kromstraat 25, Veldhoven.
More information here
.

Fixed shipping fee with tracking
All shipments with insurance - no risk when losing shipments
Shipped from The Netherlands - no import tax in all European Countries
Shopping cart
No items in shopping cart.