Devastator - Constructicons
Devastator is an immensely powerful warrior, and in that sense the combination of the Constructicons into a merged being is a huge success. Mentally, on the other hand, he's very much less than the sum of his parts. Devastator's primitive psyche is limited to only the thoughts and actions on which all his components can agree, which results in raging bouts of destructive fury. Given the sheer power Devastator brings to these rages, Megatron has no complaints.
As an Action Master, he is partnered with Scorpulator.
Normally he is composed of the six robots...
Scrapper (leader) — right leg
Hook — upper body
Bonecrusher — left arm
Long Haul — lower body
Mixmaster — left leg
Scavenger — right arm
However, in at least one reality, he goes from being a six-robot combiner to a five-bot one, Hook and Mixmaster being replaced by Hightower. In another, he is rebuilt with a modular design that allows Hook to replace Scrapper as the right leg, and any robot built with a compatible design to form the head, including Prowl and Megatron. Later on, he was outfitted to have Scoop make up another part of the combiner.
(Source: www.tfwiki.net)
TF-Robots store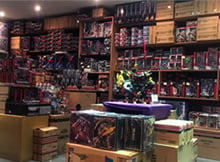 Openings hours (starting from 26 June 2021) :
| | |
| --- | --- |
| Wednesday | 14:00h - 17:00h |
| Thursday | 14:00h - 17:00h |
| Friday | 14:00h - 17:00h |
| Saturday | 11:00h - 17:00h |

Address:
Kromstraat 25, Veldhoven.
More information here.

Fixed shipping fee with tracking
All shipments with insurance - no risk when losing shipments
Shipped from The Netherlands - no import tax in all EU-Countries
Shopping cart
No items in shopping cart.