Grapple
On Cybertron his buildings are considered works of art... On Earth his ideas limited by war. Takes pride in his work, prone to severe depression if they're destroyed in battle. As crane can lift up to 35-ton object and position it with precision and grace. As robot has high-temperature arc-welder rifle... can launch rockets 4.5 miles from wrist sockets. Prone to breakdown in vehicle mode.
(Source: Wikipedia)

TF-Robots store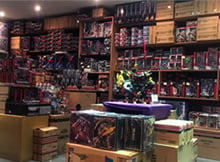 Openings hours:
Saturday 11:00h - 17:00h
To visit our shop, you have to make an appointment by e-mail: service@tfrobots.nl.

WEARING FACE COVERINGS IS MANDATORY WHEN VISITING OUR SHOP.

Address:
Kromstraat 25, Veldhoven.
More information here
.

Fixed shipping fee with tracking
All shipments with insurance - no risk when losing shipments
Shipped from The Netherlands - no import tax in all EU-Countries
Shopping cart
No items in shopping cart.