Starscream
Starscream is the treacherous Decepticon Air Commander and the deadliest of the Seekers. The self-proclaimed pride of the Cybertron War Academy, he is known for his incredible skill and boundless ambition. Thus, Starscream believes he is a more suitable leader than Megatron.
Want to order Starscream figures? TF-Robots is the number one webshop for Transformers Starscream action figures. We deliver quickly and your order is always shipped insured. We are an official partner of Hasbro. Please check out our collection of Transformers Starscream toys. We ship worldwide.
Shopping cart
No items in shopping cart.

TF-Robots store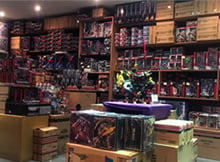 Openings hours:
| | |
| --- | --- |
| Wednesday | 14:00h - 17:00h |
| Thursday | 14:00h - 17:00h |
| Friday | 14:00h - 17:00h |
| Saturday | 11:00h - 17:00h |
Address:
Fabrieksweg 3K, Bladel.

Fixed shipping fee with tracking
All shipments with insurance - no risk when losing shipments
Shipped from The Netherlands - no import tax in all EU-Countries