Air Raid
Prefers streaking into a cluster of Decepticons to shooting at them from long range... says, "that always sparks their wires a bit." Tactically, most fearless Aerialbot... just wants to have fun. Flies at Mach 2.5, range 1500 miles. Carries air-to-air heat-seeking missiles, uses torque rifle whose beam applies 80,000 psi of rotational force.
(Source: Wikipedia)

TF-Robots store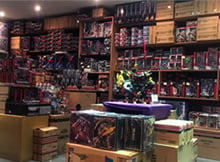 Openings hours:
Saturday 11:00h - 17:00h
To visit our shop, you have to make an appointment by e-mail: service@tfrobots.nl.

WEARING FACE COVERINGS IS MANDATORY WHEN VISITING OUR SHOP.

Address:
Kromstraat 25, Veldhoven.
More information here
.

Fixed shipping fee with tracking
All shipments with insurance - no risk when losing shipments
Shipped from The Netherlands - no import tax in all European Countries
Shopping cart
No items in shopping cart.