Bruticus - Combaticons
The Combaticons are a unit of fierce Decepticon soldiers, operating with (mostly) military precision under the watchful eye of the tactically brilliant Onslaught. They sometimes operate out of their own headquarters.
The Combaticons consist of:
The tactician Onslaught (leader)
The violent Brawl
The egotistical Blast Off
The con man Swindle
The unhinged Vortex
They combine to form Bruticus.
(Source: www.tfwiki.net)

TF-Robots store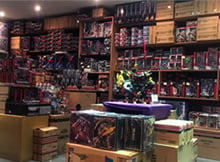 Openings hours:
Saturday 11:00h - 17:00h
To visit our shop, you have to make an appointment by e-mail: service@tfrobots.nl.

WEARING FACE COVERINGS IS MANDATORY WHEN VISITING OUR SHOP.

Address:
Kromstraat 25, Veldhoven.
More information here
.

Fixed shipping fee with tracking
All shipments with insurance - no risk when losing shipments
Shipped from The Netherlands - no import tax in all European Countries
Shopping cart
No items in shopping cart.