Pre-orders
What does pre-order means?
You can pre-order certain Transformers at TF Robots. This means you are putting a reservation on a Transformer that has not been released by the manufacturer yet.
Release dates are tentative and not within our control. If the manufacturer postpones the release date of an item, we can not be held responsible.
During the pre-order period special pre-order price is used. After this period we will use the normal retail prices.

Combine pre-order with existing products
You can combine the pre-order products with products that are available.
You have the following options:
we keep the products till all the products have arrived and are completed, or
you will pay each order with its shipping cost separately, so we can immediately send the products that have arrived.

Payment
Pre-orders items are often very popular and have to be paid upfront, within 7 days. This way we can place the pre-order as an order from the manufacturer.

Cancel the pre-order
We cancel the pre-order if the payment is not transferred within 7 working days to our bank account. It is possible to cancel the pre-order after payment. We will charge a 15 % cancellation fee.
Please contact us to cancel a pre-order.
We reserve the right to change prices if necessary. If this affects your pre-ordered item, you will be informed of this.
Shopping cart
No items in shopping cart.

TF-Robots store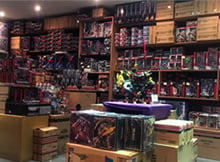 Openings hours:
| | |
| --- | --- |
| Wednesday | 14:00h - 17:00h |
| Thursday | 14:00h - 17:00h |
| Friday | 14:00h - 17:00h |
| Saturday | 11:00h - 17:00h |
Address:
Fabrieksweg 3K, Bladel.

Fixed shipping fee with tracking
All shipments with insurance - no risk when losing shipments
Shipped from The Netherlands - no import tax in all EU-Countries