Hun-Gurrr
He has two mouths to feed—his own—and spends most of his time doing it. He's the leader, but since his mouth is usually full, his orders are usually misinterpreted. Prefers eating non-living to living things... doesn't like anything that might still be wriggling about after he swallows it. Can refashion digested materials and spit them out as crude missiles. Has powerful sonic stun gun in robot mode.
(Source: Wikipedia)

TF-Robots store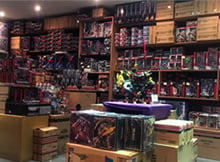 Openings hours (starting from 26 June 2021) :
| | |
| --- | --- |
| Wednesday | 14:00h - 17:00h |
| Thursday | 14:00h - 17:00h |
| Friday | 14:00h - 17:00h |
| Saturday | 11:00h - 17:00h |

Address:
Kromstraat 25, Veldhoven.
More information here.

Fixed shipping fee with tracking
All shipments with insurance - no risk when losing shipments
Shipped from The Netherlands - no import tax in all EU-Countries
Shopping cart
No items in shopping cart.