Grimlock
Most fearsome and powerful Dinobot. Although dedicated to the Autobot cause, resents authority. Cold, merciless, but a valiant warrior. Has contempt for the weak, including all humans. Great strength, uses jaws to break almost anything in two. Carries energon sword and galaxial rocket launcher in Dinobot mode. Other than arrogance and lack of speed, has no real weakness.
(Source: Wikipedia)

TF-Robots store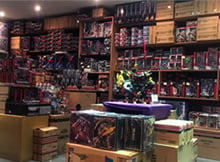 Openings hours:
Saturday 11:00h - 17:00h
To visit our shop, you have to make an appointment by e-mail: service@tfrobots.nl.

WEARING FACE COVERINGS IS MANDATORY WHEN VISITING OUR SHOP.

Address:
Kromstraat 25, Veldhoven.
More information here
.

Fixed shipping fee with tracking
All shipments with insurance - no risk when losing shipments
Shipped from The Netherlands - no import tax in all European Countries
Shopping cart
No items in shopping cart.