First Aid
Hates seeing any machine in pain - even those who don't know it, like a broken street lamp or an overheated car. Compassionate, cautious - will restrict an Autobot to repair bay for faulty directional signal. Carries dual-barrelled decrystallizer cannon - weakens metal by disrupting crystal-line structure - and photon pistol. Fists shoot laser beams used for welding in surgery.
(Source: Wikipedia)

TF-Robots store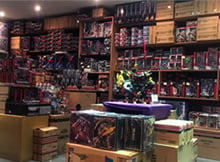 Openings hours:
Saturday 11:00h - 17:00h
To visit our shop, you have to make an appointment by e-mail: service@tfrobots.nl.

WEARING FACE COVERINGS IS MANDATORY WHEN VISITING OUR SHOP.

Address:
Kromstraat 25, Veldhoven.
More information here
.

Fixed shipping fee with tracking
All shipments with insurance - no risk when losing shipments
Shipped from The Netherlands - no import tax in all European Countries
Shopping cart
No items in shopping cart.