Computron - Techobots
Computron is the combination of the five Autobot Technobots. Typically, the combiner process dulls the wits of the individual Transformers, however, such is not the case for Computron. The Technobots managed to remedy that problem, but in the process, severely lagged Computron's reaction time. Before coming to any decision, Computron must analyze the opinions of every individual Technobot, resulting in his falling behind in battle. In the end, he always makes the correct choice, but more often than not it's too little, too late. Thanks for nothing, brainiac!
Computron is composed of:
Scattershot (leader)
Afterburner
Lightspeed
Nosecone
Strafe
(Source: www.tfwiki.net)
Shopping cart
No items in shopping cart.

TF-Robots store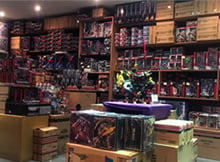 Openings hours:
| | |
| --- | --- |
| Wednesday | 14:00h - 17:00h |
| Thursday | 14:00h - 17:00h |
| Friday | 14:00h - 17:00h |
| Saturday | 11:00h - 17:00h |
Address:
Fabrieksweg 3K, Bladel.

Fixed shipping fee with tracking
All shipments with insurance - no risk when losing shipments
Shipped from The Netherlands - no import tax in all EU-Countries