Wildrider
Look out motorists - he exults in the accidents he causes! Driving recklessly, screaming and laughing. Some comrades think it's an act, others really know he's really as nuts as he appears. Fears quiet, prone to tire blow-outs. In car mode goes up to 250 mph with amazing maneuverability. In robot mode, his scattershot gun sprays laser beams over wide areas.
(Source: Wikipedia)

TF-Robots store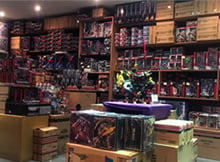 Openings hours:
Saturday 11:00h - 17:00h
To visit our shop, you have to make an appointment by e-mail: service@tfrobots.nl.

WEARING FACE COVERINGS IS MANDATORY WHEN VISITING OUR SHOP.

Address:
Kromstraat 25, Veldhoven.
More information here
.

Fixed shipping fee with tracking
All shipments with insurance - no risk when losing shipments
Shipped from The Netherlands - no import tax in all European Countries
Shopping cart
No items in shopping cart.