Cyclonus
is a Decepticon from the Generation 1 continuity family.
Darling one, read my words and hear my heart speak of a love soft and undying: a love that will be with you always.
Among the Decepticons, finding a genuinely loyal and competent second-in-command is a near impossibility. Cyclonus is the exception to that rule. Created by Unicron, Cyclonus is a being whose loyalty to Galvatron and the Decepticon cause is so intense as to exclude most other emotions and interests from his mind. He is dedicated to destruction in his leader's name.
He also has brains to back up that dedication, power to enforce Galvatron's will, and the initiative to form plans and get them done. Cyclonus could easily rule the Decepticons himself if he so desired, either as a power behind the throne or directly overthrowing his psychotic master. His responses to any suggestions that he do so? "All hail Galvatron!"
(Source: www.tfwiki.net)

TF-Robots winkel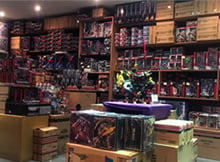 Openingstijden winkel
Zaterdag 11:00 uur - 17:00 uur

Vanaf zaterdag 8 april is het weer mogelijk om onze winkel op afspraak te bezoeken op de zaterdagen. U kunt een tijdsblok reserveren van 30 minuten. Voor het maken van een afspraak kunt u een e-mail sturen naar service@tfrobots.nl.
Daarnaast is het ophalen van bestellingen aan de deur ook gewoon mogelijk van maandag tot en met zaterdag. U krijgt een e-mail van ons als de bestelling klaar ligt.
Adres:
Kromstraat 25, Veldhoven.
Meer informatie hier.

Snelle levering* - voor 15:00u besteld, volgende dag geleverd
Altijd verzekerd verzonden* - geen risico bij vermissing pakketten
Uitgebreid assortiment
*m.u.v. situaties waarbij sprake is van overmacht.
Winkelwagen
Geen artikelen in winkelwagen.