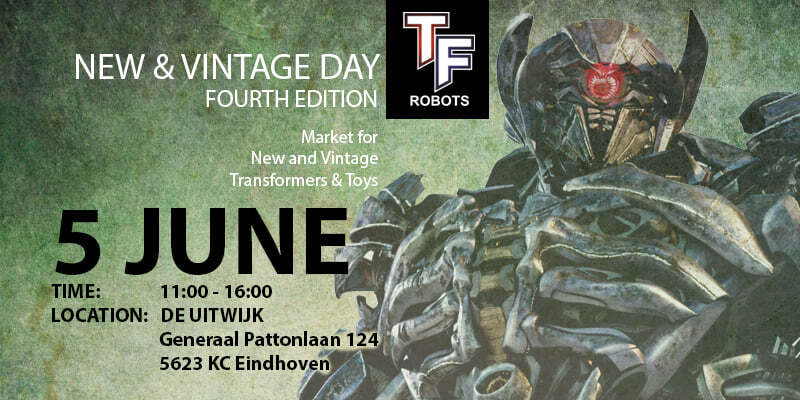 TF-Robots New & Vintage Day
Er zullen op deze dag in totaal 7 dealers zijn, waarvan 6 dealers voornamelijk (Vintage) Transformers verkoopt. Ook bestaat er een kans dat deze dealers andere speelgoedlijnen bij zich hebben. Op onze Facebookpagina vindt u een impressie van wat er verkocht gaat worden.
Het is op deze dag mogelijk om te pinnen bij TF Robots. Bij andere dealers kunt u alleen met contant betalen.

Wat nemen de dealers mee:
1) Transformers g1, g2, armada, rid, beast wars, wst, scf pvc, movie, petjes, henkei, statues ( palisades).
2) Tf's G1 vintage, reissue tf's, modern star wars, Super Sentai, japanese go Busters, Pokemon japanese boosterboxes, Pokemon japanese boxes packs, Pokemon japanese rare singles, modern Pokemon, vintage japanese rare singles, Pokemon US rare singles
3) TF's en diverse comics.
4) TF's diverse lijnen.
5) TF's diverse lijnen.
6) TF's diverse lijnen, vintage G1 US en Japans.
TF Robots zal hier aanwezig zijn met een assortiment van Transformers, Marvel Legends en Star Wars. Bestellingen in onze webshop kunnen worden opgehaald op de New & Vintage Day.

===
160m2 market for new & vintage Transformers and toys
Free entrance

Date:

Sunday 5 June 2022

Time:

11:00 -16:00

Location:

De Uitwijk

Address:

Generaal Pattonlaan 124
5623KC Eindhoven

Route:

Transportation by bus (every 5-10 minutes)
1) Departure Eindhoven Station: Bus 322, 405 and 406.
2) Arrival bus stop: Generaal Pattonlaan
3) Walk 1 minute to Generaal Pattonlaan 124
Attention: it is not possible to register as a dealer for the TF-Robots New & Vintage Day.
Winkelwagen
Geen artikelen in winkelwagen.


TF-Robots winkel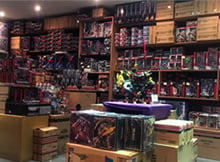 Openingstijden winkel
(Info leveranciers hier)

| | |
| --- | --- |
| Woensdag | 14:00 uur - 17:00 uur |
| Donderdag | 14:00 uur - 17:00 uur |
| Vrijdag | 14:00 uur - 17:00 uur |
| Zaterdag | 11:00 uur - 17:00 uur |
Adres:
Fabrieksweg 3K, Bladel

Snelle levering* - Op werkdagen voor 13:00u besteld, dezelfde dag verzonden.
Altijd verzekerd verzonden* - geen risico bij vermissing pakketten
Uitgebreid assortiment
*m.u.v. situaties waarbij sprake is van overmacht.