Brainstorm
is an Autobot Headmaster and one of the most famous notorious inventors from the Generation 1 continuity family.
If a job's worth doing, it's worth OVERDOING!
Brainstorm is a never-ending font of ideas. Whether he's in the middle of a battle or consciously working on another of his projects, new ideas are the background noise of his mind, sometimes to such an extent that his brain will overheat. In his zeal to see these ideas realized, Brainstorm sometimes forgets about things like "basic safety" and "proper experimental procedure". He will happily hand out new and untested inventions to less-than-responsible comrades for field-testing. His inventions range from useful biotechnology, to outlandish anti-personnel weaponry, to devices that harness the bizarre and unthinkable.
Brainstorm is at least partly responsible for developing the Headmaster process. It's sometimes hard to tell how much of it was his doing and how much was his Headmaster partner Arcana's, the two work together so seamlessly.
(Source: www.tfwiki.net)
Winkelwagen
Geen artikelen in winkelwagen.


TF-Robots winkel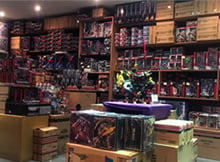 Openingstijden winkel:
(Info leveranciers hier)
| | |
| --- | --- |
| Woensdag | 14:00 uur - 17:00 uur |
| Donderdag | 14:00 uur - 17:00 uur |
| Vrijdag | 14:00 uur - 17:00 uur |
| Zaterdag | 11:00 uur - 17:00 uur |
Adres:
Fabrieksweg 3K, Bladel

Snelle levering* - Op werkdagen voor 13:00u besteld, dezelfde dag verzonden.
Altijd verzekerd verzonden* - geen risico bij vermissing pakketten
Uitgebreid assortiment
*m.u.v. situaties waarbij sprake is van overmacht.