Retourneren
Wanneer je een product ontvangt dat niet voldoet aan de voorwaarden of beschadigd is, dan kunt je dit product binnen 14 dagen (10 werkdagen) retourneren. Je krijgt dan van ons een nieuw product of de betaling retour. Eventueel brengen we de gemaakte kosten in mindering van het terug te betalen bedrag. De verantwoordelijkheid voor het terugsturen van de producten en de hiervoor gemaakte kosten liggen in dit geval bij jou.
Wij behouden ons het recht om geretourneerde producten te weigeren, bijvoorbeeld indien wij deze onjuist ingepakt terug hebben gekregen of de klacht niet overeenkomt met de werkelijkheid. Geopende items kunnen niet retour.
Niet tevreden? Ruilen is mogelijk binnen 14 dagen, in de originele verpakking. De retourneerkosten zijn voor rekening van de klant.
Verkeerde artikelen ontvangen, verzend deze dan ongeopend retour. Deze retourneerkosten zijn voor rekening van TF Robots en worden op uw banknummer teruggestort.
Ons retouradres:
TF Robots
Ree 93
5509RC Veldhoven
Nederland
Neem eerst contact met ons op wanneer je iets gaat terugsturen.
Let op! Paint chips/issues veroorzaakt door transformatie valt niet onder de garantie. Wij kunnen hiervoor geen oplossing vinden. Dit geldt ook bij schade door eigen toedoen bijvoorbeeld verkeerde transformatie.
Controleer de track and trace code die je hebt ontvangen op de site van Post.nl. Daarnaast kun je altijd contact opnemen met Post.nl als er iets vreemds wordt vermeld bij de track en traceservice van Post.nl.
Winkelwagen
Geen artikelen in winkelwagen.


TF-Robots winkel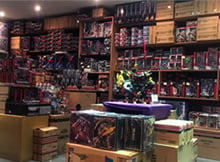 Openingstijden winkel:
(Info leveranciers hier)
| | |
| --- | --- |
| Woensdag | 14:00 uur - 17:00 uur |
| Donderdag | 14:00 uur - 17:00 uur |
| Vrijdag | 14:00 uur - 17:00 uur |
| Zaterdag | 11:00 uur - 17:00 uur |
Adres:
Fabrieksweg 3K, Bladel

Snelle levering* - Op werkdagen voor 13:00u besteld, dezelfde dag verzonden.
Altijd verzekerd verzonden* - geen risico bij vermissing pakketten
Uitgebreid assortiment
*m.u.v. situaties waarbij sprake is van overmacht.