Optimus Prime
Optimus Prime is the awe-inspiring leader of the Autobot forces. Selfless and endlessly courageous, he is the complete opposite of his mortal enemy Megatron. Originally a mere civilian, he was chosen by the Matrix to command, the first in a number of heavy burdens he has been forced to bear. Another is his bringing of the Transformers' conflict to Earth. Every casualty, human or Cybertronian, weighs heavily on his spark. He does not show this side to his soldiers, and he never succumbs to despair. The Autobots need a decisive, charismatic leader, and that is what he gives them. It was that leadership which turned the tide of the Great War.
(Source: www.tfwiki.net)
-17%

-7%

Pre order
Winkelwagen
Geen artikelen in winkelwagen.

TF-Robots winkel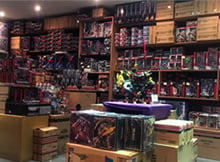 Openingstijden winkel
(Info leveranciers hier)
| | |
| --- | --- |
| Woensdag | 14:00 uur - 17:00 uur |
| Donderdag | 14:00 uur - 17:00 uur |
| Vrijdag | 14:00 uur - 17:00 uur |
| Zaterdag | 11:00 uur - 17:00 uur |
Adres:
Kromstraat 25, Veldhoven.
Meer informatie hier.

Snelle levering* - Op werkdagen voor 15:00u besteld, dezelfde dag verzonden.
Altijd verzekerd verzonden* - geen risico bij vermissing pakketten
Uitgebreid assortiment
*m.u.v. situaties waarbij sprake is van overmacht.