Guestbook
Posted by Barry

10-09-2020 | 21.29

I received my Earthrise Bluestreak today, and I am so happy. I received it without any hassle, and the service was very friendly.

I will be back (I made an account).

Thank you TF-robots.

Posted by Olivier

14-08-2020 | 14.41

This was my first order at TF-robots and it surely won't be my last!

All i can say is, what a great service!

Received updates about my order

Packaging was amazing and a quick delivery, ordered yesterday and received today!

My collection is a bit more complete now but to be honest, when is a collection truly complete

?

Thanks Team TF-robots

Kind regards

Olivier

Posted by Michael

08-07-2020 | 15.11

Monday i received my first order with TF Robots and sadly the figure wasn't packed that well. Just some wrapping paper and not bubble wrap for a 170€ figure? The box was dented but luckily the figure wasn't harmed...

Posted by Jean-Claude

07-03-2020 | 18.58

The King Arts - Iron man Mark 35 Red Snapper DFS032 I ordered online was my first purchase form TF Robots, but it won't be my last! Great customer service and communication, super fast shipping and item in pristine condition! An overall great shopping experience! I have nothing but good things to say about my dealings with this store! I highly recommend it! A+++!

Posted by Basti

13-01-2020 | 20.34

Ich habe hier schon mehrmals bestellt. Alles lief immer sehr gut mit schneller Lieferung 2 Werktage später. Vielen Dank TF ROBOTS!!

Posted by Michael Scherhag

04-07-2019 | 10.08

Habe vergangenes Wochenende das 2. mal bei TF Robots bestellt und war wieder sehr angenehm Überrascht wie schnell und unkompliziert alles über die Bühne geht. Auch das verpacken der Ware ist Professionell und Sammlerfreundlich! Sehr gewissenhaft! Das angebotene Sortiment ist riesig und ich kenne jetzt auch keinen Shop in Deutschland oder in anderen angrenzenden Ländern die da mithalten können. Erst recht nicht was das Preisleistungsverhältniss angeht. Ich kann nur sagen " weiter so !" Und ich werde wohl lange zu euren Kunden gehören!!!

Posted by Jasmin

21-03-2019 | 04.27

Colis commandé lundi en début d'après-midi reçu mercredi matin. Contenu très bien emballé extrêmement satisfait.

C'est la 1ère fois que je commande chez tf robots.

Votre réputation n'est plus à faire.

Vous répondez très rapidement aux mail

Le ultima guard wei jiang à rejoint le reste de ma collection.

Je reprendrai des robots sans hésiter merci tf robots.

Merci Kévin

Posted by Thanos

26-01-2019 | 19.12

Today I received my 3a Optimus Prime TLK premium figure. The package was perfectly delivered without a simple scratch and in perfect condition. Thanks for your awesome package and professionalism.

Posted by Dimosthenis

01-04-2017 | 14.07

Yesterday I had the pleasure to receive my first batch of figures from tf-Robots and i just had to say that I was really impressed, not only by the small amount of time that it had to get here, but also by the extremely safe packaging that both figures were wrapped securely!!

TF-Robots store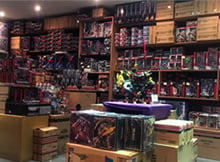 Openings hours:
| | | |
| --- | --- | --- |
| Wednesday | 13:30-17:00 | |
| Thursday | 13:30-17:00 | |
| Friday | 13:30-17:00 | |
| Saturday | 11:00-17:00 | |
| | | |

Address:
Kromstraat 25, Veldhoven.
More information here.

Fixed shipping fee with tracking
All shipments with insurance - no risk when losing shipments
Shipped from The Netherlands - no import tax in all European Countries
Shopping cart
No items in shopping cart.